RESOURCES
Ducks Unlimtied Canada collaborates with groups across Canada's boreal forest to develop science based conservation solutions for conserving boreal wetlands.
Download your free guidebook or purchase a hard copy
---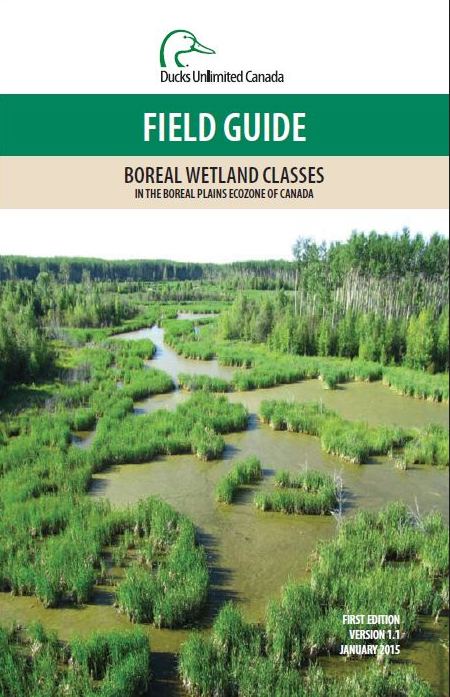 Field Guide: Boreal Wetland Classes In the
Boreal Plains Ecozone of Canada
This guide is intended for resource managers to help them identify wetlands while in the field. Based on the Enhanced Wetland Classification system developed by Ducks Unlimited Canada (DUC) for the Boreal Plains Ecozone of Western Canada, this guide will help users identify five major wetland classes and is intended to be useful at the planning and operational level. This guide has been developed for a wide range of resource managers, from professional foresters and engineers to biologists, technicians, construction supervisors and practitioners.
---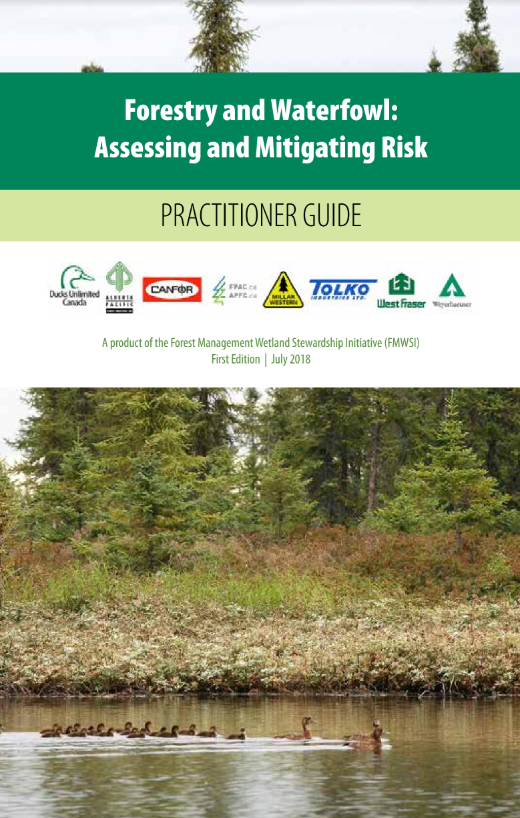 Forestry and Waterfowl:
Assessing and Mitigating Risk
In Canada, migratory birds, nests and eggs are protected under the Migratory Bird Convention Act (1994). This practitioner guide describes a decision-making approach for assessing and reducing the risk of incidental take that will help users assess the risk of incidental take of nesting waterfowl and waterfowl nests when operating within the migratory bird nesting season by considering (1) risk of disturbance from forest industry activities (2) waterfowl nesting season (3) waterfowl density (4) nesting habitat potential. This guide was developed as part of Forest Management and Wetland Stewardship Initiative (FMWSI).
---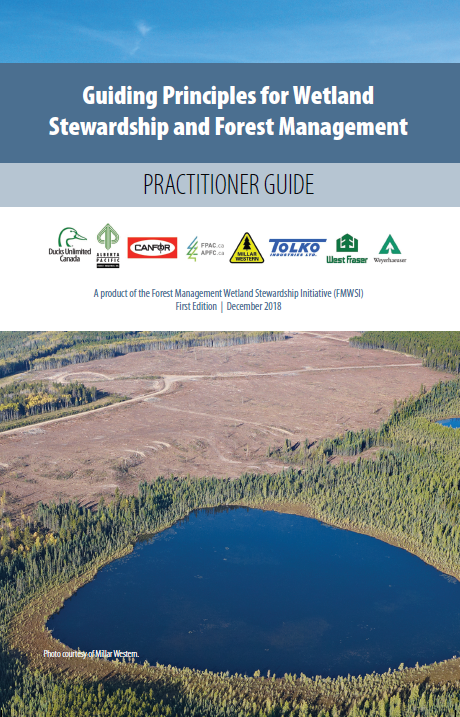 Guiding Principles for Wetland
Stewardship and Forest Management
There is increasing evidence that wetlands and upland forests are interdependent. Because of these connections, sustainable forest management is key to sustaining healthy wetland habitats, and healthy wetlands are key to sustaining productive upland forests. The information in this guide is intended to assist forest managers in achieving improved wetland stewardship by: (1) Building an enhanced understanding of wetlands in the Canadian boreal plains and their value to the forest sector and society as a whole, (2) Describing the interactions between wetlands, upland forests, and forest management, (3) Establishing wetland stewardship principles, objectives, and planning considerations that will restul in positive environmental outcomes, and (4) Providing practices and tools to consider during forest management planning to help avoid or minimize adverse effects to wetlands. This guide was developed as part of Forest Management and Wetland Stewardship Initiative (FMWSI).

---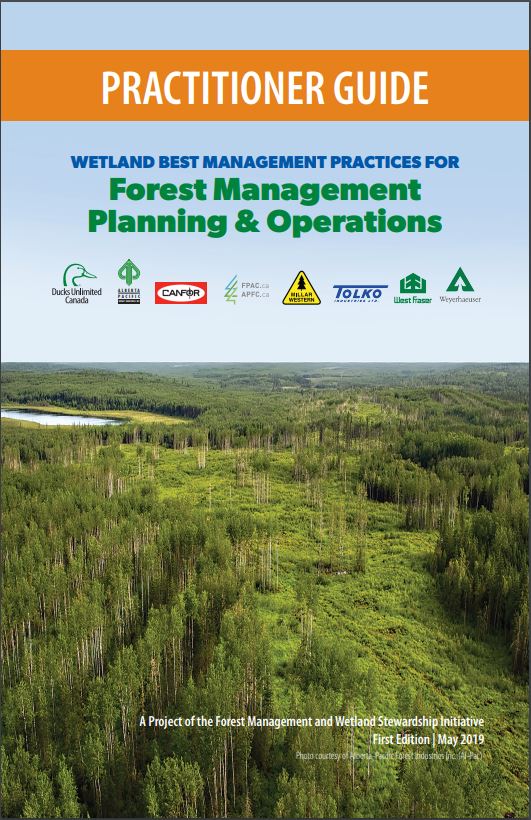 Wetland Best Management Practices
for Forest Management Planning
and Operations
The Wetland Best Management Practices for Forest Management Planning and Operations Practitioner Guide was written for forest practitioners involved in operational planning and on-the-ground activities. The focus of the Guide is on Canada's Boreal Plains ecozone, but guidance may also apply outside this region. This product describes wetland best management practices for Wetland training, soil conservation, invasive species management, recreational access, and spills; Wetland and riparian area identification and avoidance; (3) Access planning, design, and construction; Forest harvest planning and operations, including harvesting wetland transition zones, treed wetlands, areas adjacent to wetlands, and other water features; Forest renewal planning and operations; And more. This guide was developed as part of Forest Management and Wetland Stewardship Initiative (FMWSI).
For additional resources, visit http://boreal.ducks.ca/publications/